The Mama Safi range of stoves (jikos) enable you to cook two or more meals at the same time. The Mama Safi Energy Stove (jiko) series feature multiple burners. This means that you can cook even more with less fuel. It comes in the option of two burners or four burners. The fact that you can cook two meals at the same time, means that the Mama Safi stove cuts your fuel consumption by half. The Mama Safi Stove (jiko) comes in a 2 Burner and 4 Burner Model. The stoves also feature an optional oven* compartment. The oven compartment can be used for baking while food simmers in the burner. It can also be used to store food and keep it warm.
* - Not All Models have a stove compartment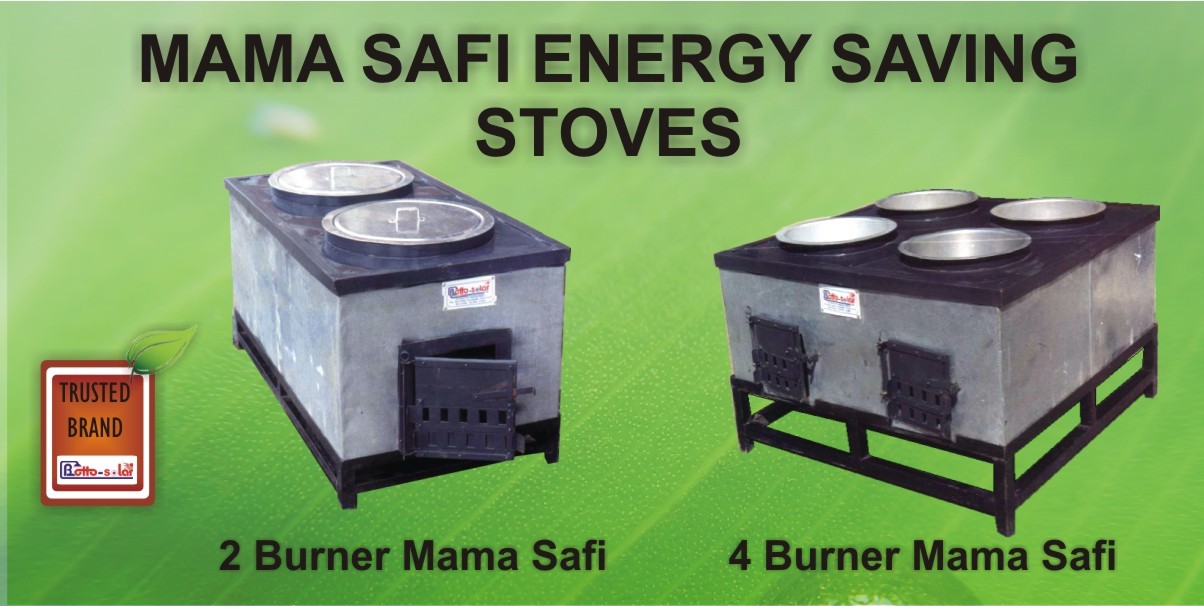 Why opt for our Mama Safi Stoves (Jikos)?
Financial benefits
Dramatically reduce your firewood and electric bill
A Mama Safi Stove can drastically reduce your monthly firewood bill and electricity bill by 50-70%. This drastically improves your bottom line as an institution.
Environmental benefits
Reduce your carbon footprint
Our Mama Safi Stoves reduce the amount of fuel and in specific firewood by supplying your home or institution with clean, renewable energy from biomass. By using less firewood and providing more energy and lasting longer than other brands, Botto Solar Energy Saving Stoves are the best choice for cutting your carbon footprint down to size while maintaining a comfortable lifestyle.
Improves indoor air quality
Unlike the open fire option of cooking food for institutions which pollutes the kitchen with smoke, our Mama Safi Stoves feature a chimney system which eliminates 90% of this smoke. This means that the kitchen can be kept clean. The smoke free environment will also mean that you will avoid respiratory illnesses caused by Indoor Air Pollution.
Non-toxic materials
Botto Solar Mama Safi Stoves are made from high quality stainless steel, mild steel, aluminium, bricks, and fire proof cement among other non-toxic materials.
Other Benefits;
Superior Design Quality
Our Mama Safi Stove have a superior quality and design compared to the many other substandard imitations in the market. At Botto Solar we do not compromise on quality to lower prices. Upon installation, an equipment commissioning session is conducted to train the Kitchen Staff on how to use and care for the equipment. Each of our energy stoves pass a quality check ensuring that the customer gets value for his money.
Guarantee
Our Mama Safi Stoves are built to last. Each Energy Saving Stove comes with a guarantee of 1 year. With proper use, care and timely maintenance, the Stoves have a projected lifespan of over 10 years of active service.
Efficient Cooking of Food
Our Mama Safi Stoves cook food very fast. The brick lined Energy Saving Stoves absorb the heat and retain it cooking food faster than ordinary cookers which lose heat to the surroundings. This means that little firewood is used in turn saving a fortune in wood fuel costs and concomitantly contributes to environmental conservation.