We have an option of wood and charcoal chips friers. The escalating cost of electricty has forced many hotels, restaurants and caters to think of alternative cost effective ways of Frying Chips. This is where Botto Solar's expertise comes in. We have more than 20 years of research and development, we have developed chips friers that can not only save on electricity but can fry faster than the electric ones. We have carried out live demonstrations during show grounds when we have fed more than 2000 in a day people with Chips.
Wood Chips Frier
Our wood fired chips friers are designed to cut down your energy costs down to size. With energy costs spiraling out of hand, it is time to get a foothold or the rising costs. Our friers are designed for efficiency and they consume little fuel and ensure that your food is cooked in time. Talk to us today for a customized solution for your catering needs.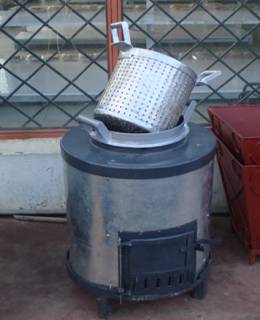 Charcoal Overdrive Chips Frier
Our award winning Charcoal Overdrive Chips Frier is becoming a standard for many caterers who want to save big on Chips business and turn a profit. Talk to us today for advice on making your business more profitable. Our charcoal friers can save you 50%. Did you know electricity constitutes the biggest expense in frying chips?
See videos of the chips frier in action https://www.facebook.com/bottosolar/